The French language is full of beautiful expressions that can add a touch of elegance to your everyday conversation. In this blog post, we'll discuss the French expression "Mettre un vent à quelqu'un". Whether you're a beginner or an advanced learner, we hope you'll find these useful and fun to use!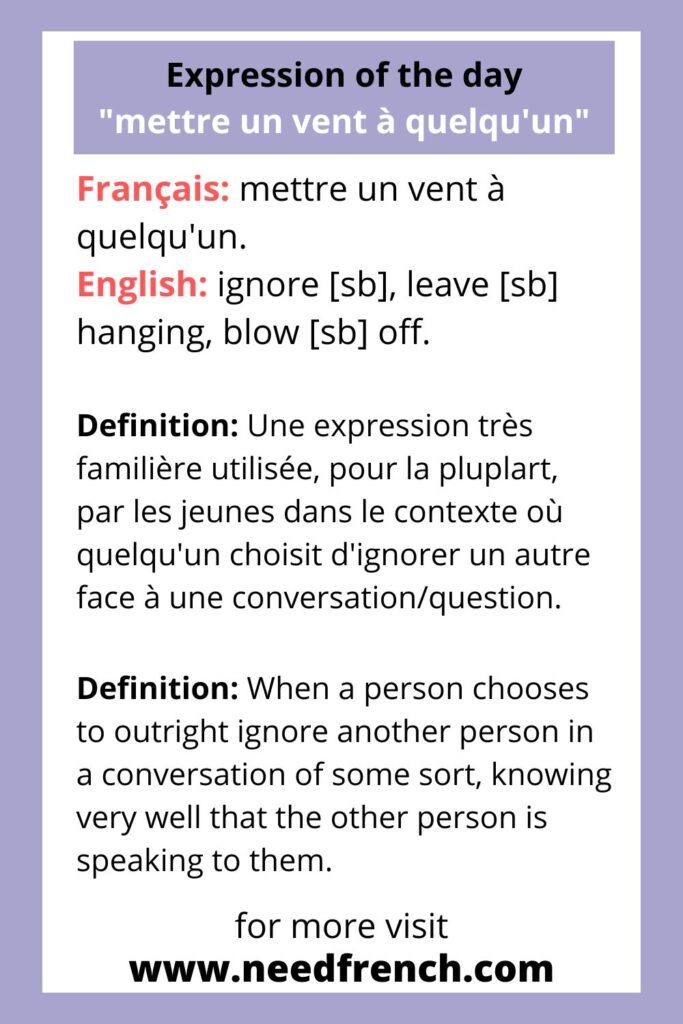 Français: mettre un vent à quelqu'un.
English: ignore [sb], leave [sb] hanging, blow [sb] off.
Définition: Une expression très familière utilisée, pour la pluplart, par les jeunes dans le contexte où quelqu'un choisit d'ignorer un autre face à une conversation/question.
Definition: When a person chooses to outright ignore another person in a conversation of some sort, knowing very well that the other person is speaking to them.
Exemple 1: Adam a eu le culot de me mettre un vent quand je lui parlais.
Example 1: Adam had the nerve to ignore me when I was speaking to him.
Exemple 2: A la fin d'une conversation très gênante entre le président des EU et le pape, Donald Trump a tendu sa main pour une poignée de main, mais le pape l'a mis un vent.
Example 2: At the end of a very awkward conversation between the president of the US and the pope, Trump stuck out his hand for a handshake but the pope left him hanging.
Do you know other examples tell us all about them in the comments?