The French language is full of beautiful expressions that can add a touch of elegance to your everyday conversation. In this blog post, we'll discuss the French expression "C'est l'hôpital qui se fout de la charité". Whether you're a beginner or an advanced learner, we hope you'll find these useful and fun to use!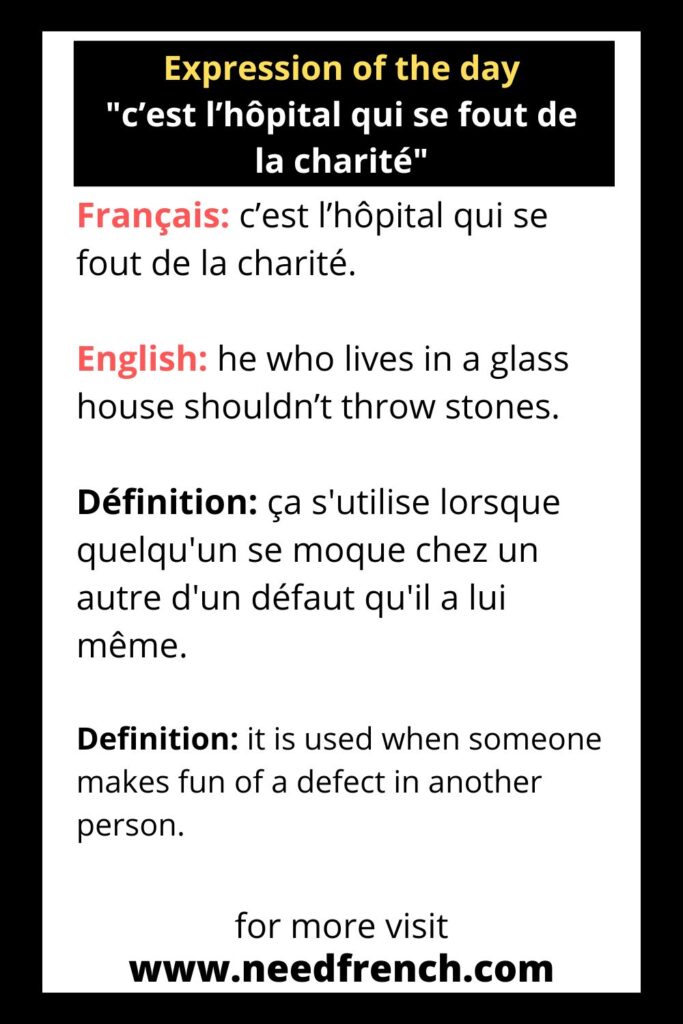 Français: c'est l'hôpital qui se fout de la charité.
English: he who lives in a glass house shouldn't throw stones.
Définition: ça s'utilise lorsque quelqu'un se moque chez un autre d'un défaut qu'il a lui même, littéralement celui qui vit dans une maison en verre ne devrait pas jeter de pierres, c'est-à-dire : il vaut mieux être irréprochable avant de critiquer l'autre. Se dit en réponse à une critique venant d'une personne tout aussi critiquable.
Definition: it is used when someone makes fun of a defect in another person, an equivalent of "the pot calling the kettle black" (I could not find a better equivalent): literally "that's like a hospital mocking a charity", meaning that one should not criticize another for faults that are also one's own.
Marc: ma petite amie elle sait pas cuisiner et j'en ai marre de manger ses plats dégoûtant.
Adrien: c'est vraiment l'hôpital qui se moque de la charité.
Marc: my girlfriend can't cook and I'm tired of eating her disgusting food.
Adrien: it's really the hospital that laughs at the charity.
Do you know other examples tell us all about them in the comments?