The French language is full of beautiful expressions that can add a touch of elegance to your everyday conversation. In this blog post, we'll discuss the French expression "battre/vaincre à plate couture". Whether you're a beginner or an advanced learner, we hope you'll find these useful and fun to use!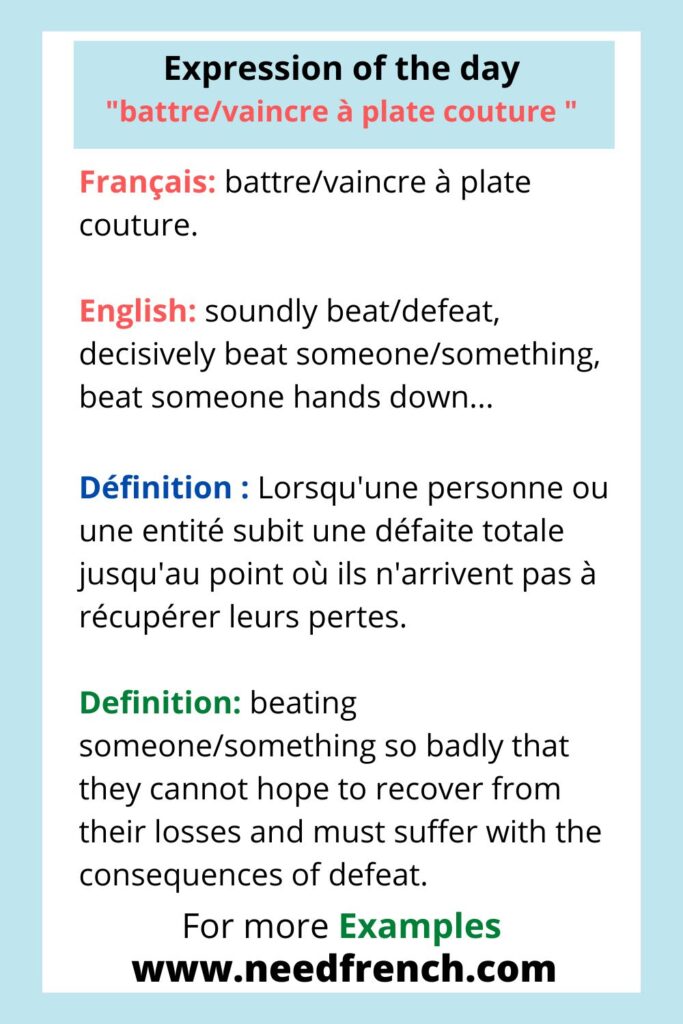 Français: battre/vaincre à plate couture.
English: soundly beat/defeat, decisively beat someone/something, beat someone hands down, beat someone hollow, rout someone, you get the point x).
Définition:  Lorsqu'une personne ou une entité (armée, parti politique) subit une défaite totale jusqu'au point où ils n'arrivent pas à récupérer leurs pertes.
Definition: beating someone/something (be it a political candidate, foreign army, or sports team) so badly that they cannot hope to recover from their losses and must suffer with the consequences of defeat.
Exemple: Mitt Romney s'est fait battre à plate couture par Obama (NOTRE DIEU) lors des éléctions présidentielles en 2012.
Example: Mitt Romney got soundly beaten (his ass whooped) during the 2012 presidential elections.

Exemple: Ce mouvement Tay-son, sous la direction d'un stratège de génie, Nguyen Hue, réunifa le pays en battant à plate couture les armées étrangères appelées à la rescousse par…
Example: The Tay-son rebellion, under the guidance of Nguyen Hue, a brilliant strategist, reunified the country by soundly defeating foreign armies called to the rescue by…