The French language is full of beautiful expressions that can add a touch of elegance to your everyday conversation. In this blog post, we'll discuss the French expression "Armé jusqu'aux dents". Whether you're a beginner or an advanced learner, we hope you'll find these useful and fun to use!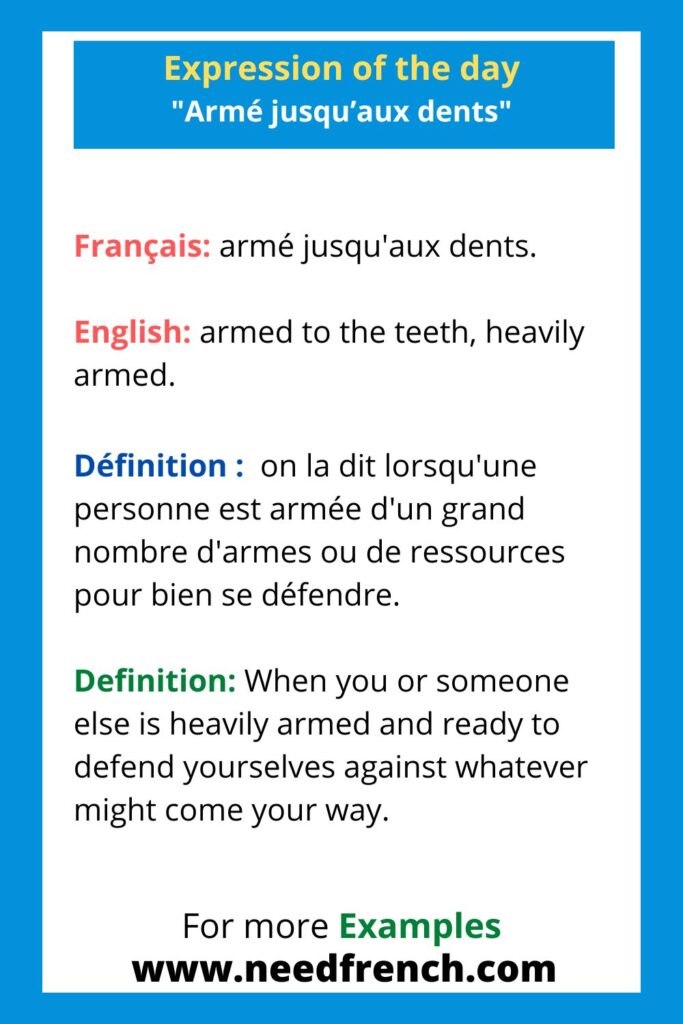 Français: armé jusqu'aux dents.
English: armed to the teeth, heavily armed.
Définition: Pour la plupart, cette expression fait référence à des armes (des fusils et des trucs de ouf), et on la dit lorsqu'une personne est armée d'un grand nombre d'armes ou de ressources pour bien se défendre.
Definition: When you or someone else is heavily armed and ready to defend yourselves against whatever might come your way, whether it's a Napoleonic invasion or a pesky fly. We don't discriminate.
FUN FACT: The English version of this expression is more or less the same as the French one. The French instance of the expression, however, first appeared in the 16th century while the English instance independently appeared in the 17th century.
Exemple: Soudain, une centaine de guérilleros VIETNAMIENS, armés jusqu'aux dents, bondirent dans la chambre où reposait tranquillement Adam.
Example: Around a hundred guerillas, all armed to the teeth, jumped into the room where Adam was resting peacefully.

Exemple: Quand le débat est finalement tenu, Kounchita sera armé jusqu'aux dents.
Example: When the debate is finally held, Kounchita will be armed to the teeth/well-prepared.