The French language is full of beautiful expressions that can add a touch of elegance to your everyday conversation. In this blog post, we'll discuss the French expression "à fleurets mouchetés". Whether you're a beginner or an advanced learner, we hope you'll find these useful and fun to use!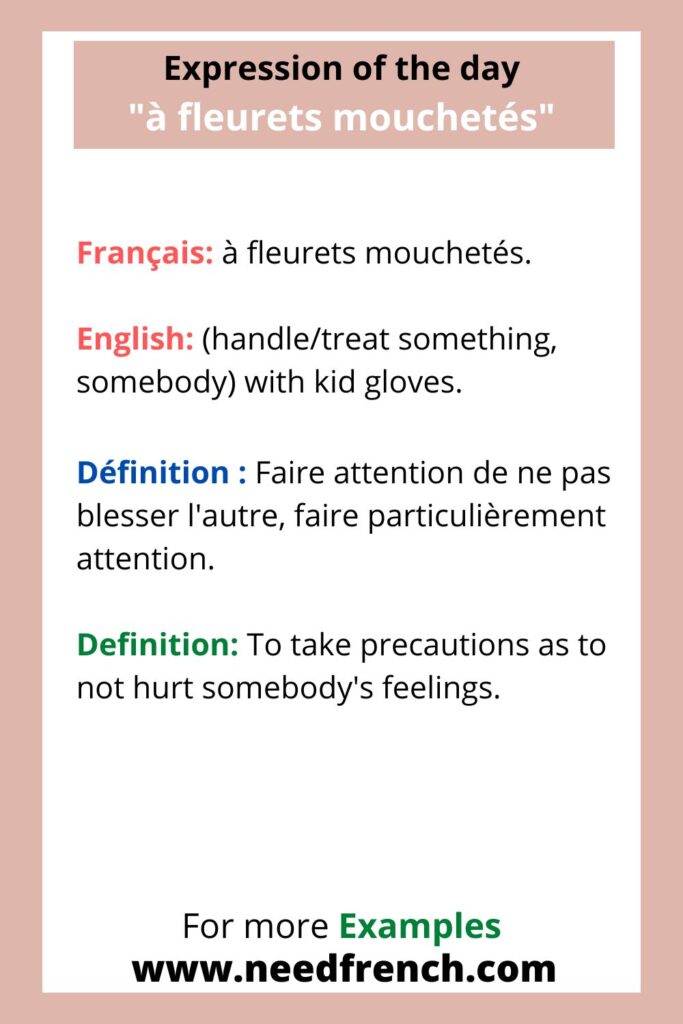 Français: à fleurets mouchetés.
English: (handle/treat something, somebody) with kid gloves.
Définition: Faire attention de ne pas blesser l'autre, faire particulièrement attention.
Definition: To take precautions as to not hurt somebody's feelings.
Fun fact: Ici "kid" veut dire "a young goat" (un jeune bouc ou une jeune chèvre), et renvoie à la fourrure de l'animal dont le gant est fait, et non à des gants de boxe pour enfants.
Fun fact: Here "kid" means "a young goat", referring to the fur of the animal the gloves are made out of, and not of kiddie boxing gloves as one would interpret it nowadays.

Additional fun fact: A "fleuret" (fencing foil) is a training weapon used in fencing, "moucheté" means with a "mouche" (button) at the end, in this context this is a piece of leather or plastic whose purpose is to soften the blow further (this weapon's blade is already quite flexible).