In the realm of language, words often have multiple layers of meaning. One such word is "tentaculaire," a fascinating term that originated in the French language. Translated into English as "sprawling" or "gigantic," "tentaculaire" conjures up images of immense proportions and expansiveness. Beyond its literal definition, this word also carries metaphorical weight, describing anything that spreads or expands in many directions, similar to the far-reaching tentacles of an octopus. Join us on a linguistic journey as we delve into the fascinating world of "tentaculaire".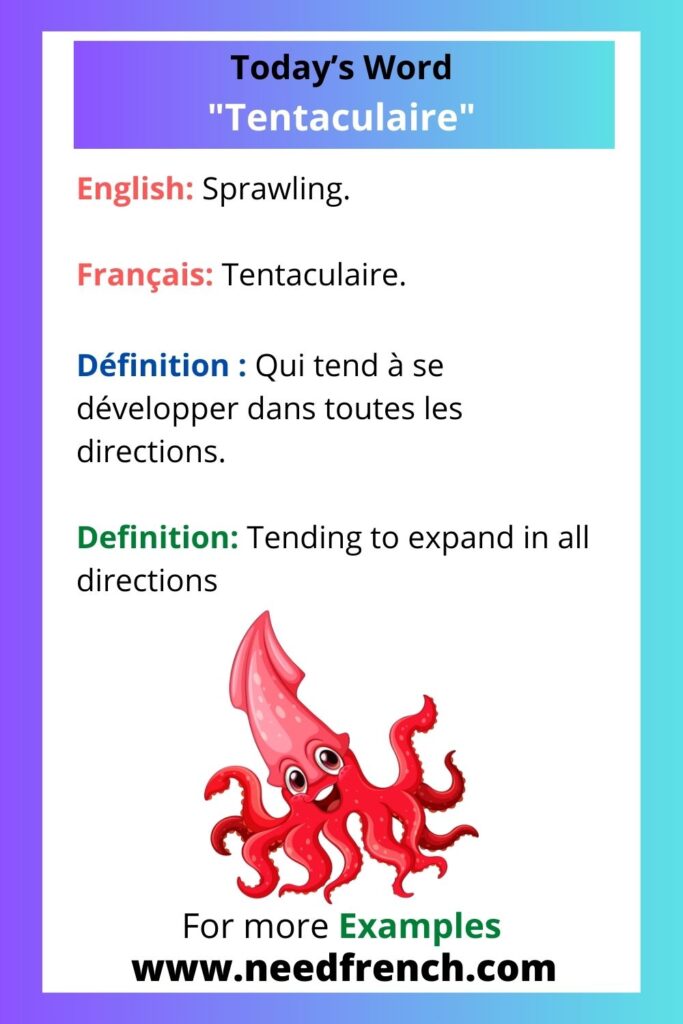 When we encounter the word "tentaculaire," its primary association is with vastness and immensity. Whether it refers to a monumental building or an entity of colossal proportions, "tentaculaire" paints a vivid picture of something of great magnitude. Synonyms such as "démesuré," "gigantesque," and "monumental" reinforce the idea of sheer size.
While "tentaculaire" has its roots in the physical realm, its metaphorical applications add depth to its meaning. When used metaphorically, this term embodies the concept of expansion, spreading, and influence. For example, one might describe the tentacled influence of social media on our lives, emphasizing its pervasive and spreading nature. Similarly, the term can be applied to societal issues such as corruption, which infiltrates multiple sectors and permeates every level of society.
Describing Cities and Urban Areas
To describe a city or urban area as "tentaculaire", one can use expressions such as "une ville tentaculaire" (a sprawling city), "une agglomération tentaculaire" (a sprawling urban area), or "une métropole tentaculaire" (a sprawling metropolis). These expressions convey the idea of expansion, and the city's reach extends in multiple directions, encompassing different neighborhoods and territories.
When it comes to describing a person's behavior or personality as "tentaculaire," phrases like "un comportement tentaculaire" (a sprawling behavior) or "une personnalité tentaculaire" (a sprawling personality) come into play. This usage implies that the individual has a wide range of interests and aspirations, with metaphorical tentacles reaching out into various domains.
English: The city's sprawling growth is visible in its extended skyline.
French: La croissance tentaculaire de la ville est visible dans son horizon étendu.
English: The far-reaching scope of the company extends to global markets.
French: La portée tentaculaire de l'entreprise s'étend aux marchés mondiaux.
English: The novel takes readers on a sprawling journey through time and space.
French: Le roman emmène les lecteurs dans un voyage tentaculaire à travers le temps et l'espace.
English: The artist's boundless creativity knows no limits.
French: La créativité tentaculaire de l'artiste ne connaît pas de limites.
English: The company's expansive expansion includes opening new branches worldwide.
French: L'expansion tentaculaire de l'entreprise inclut l'ouverture de nouvelles succursales dans le monde entier.
English: The far-reaching influence of technology has transformed several industries.
French: L'influence tentaculaire de la technologie a transformé plusieurs industries.
English: The organization's sprawling network extends across continents.
French: Le réseau tentaculaire de l'organisation s'étend à travers les continents.
English: The far-reaching impact of climate change affects ecosystems worldwide.
French: L'impact tentaculaire du changement climatique affecte les écosystèmes à travers le monde.
English: The sprawling project required coordination among multiple teams.
French: Le projet tentaculaire nécessitait une coordination entre plusieurs équipes.
English: The writer's expansive imagination weaves complex stories.
French: L'imagination tentaculaire de l'écrivain tisse des histoires complexes.
Here are some synonyms of "tentaculaire" in French:
Démesuré – excessive, immoderate
Gigantesque – gigantic, enormous
Monumental – monumental
Géant – giant
Immense – immense
Énorme – huge, enormous
Colossal – colossal
Monstrueuse – monstrous
Note that "monstrueuse" is the feminine form of "monstrueux".
From its literal connotations of vastness and immensity to its metaphorical implications of expansion and influence, "tentaculaire" captures the imagination with its versatile and captivating nature. Whether applied to physical entities, societal issues, or personal characteristics, this French word resonates with the awe-inspiring vastness of the world around us. So let us embrace the tentaculaire and explore the limitless horizons it reveals.