The French language is full of beautiful expressions that can add a touch of elegance to your everyday conversation. In this blog post, we'll discuss the French expression "tuer/écraser/étouffer dans l'œuf". Whether you're a beginner or an advanced learner, we hope you'll find these useful and fun to use!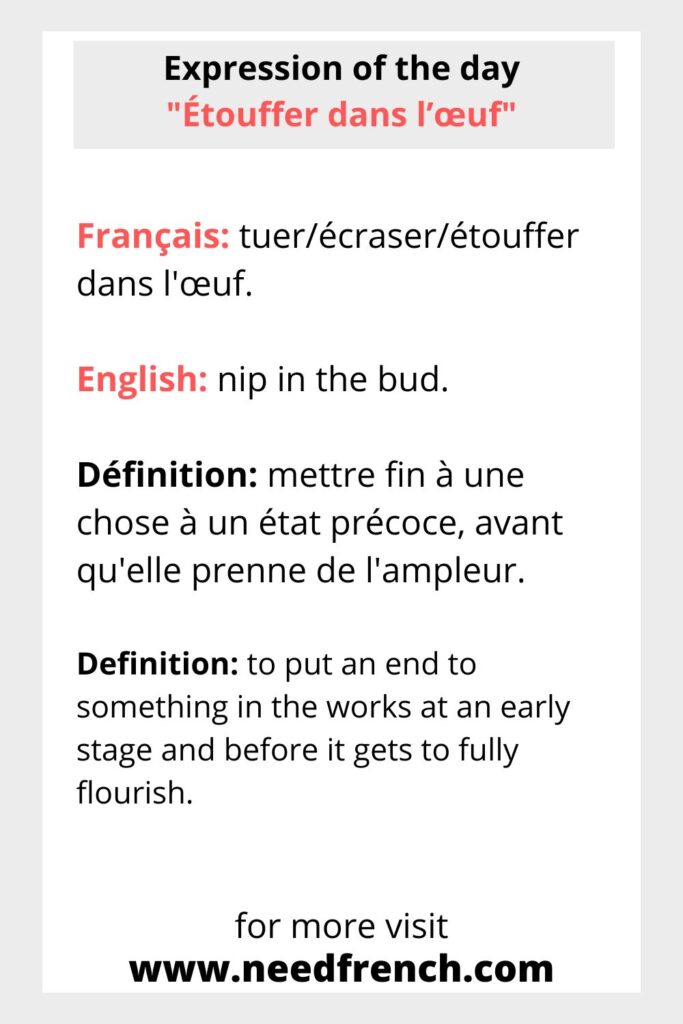 Français: tuer/écraser/étouffer dans l'œuf.
English: nip in the bud.
Définition: mettre fin à une chose à un état précoce, avant qu'elle prenne de l'ampleur. L'expression française est un peu plus morbide (on tue tout de même un poussin !) que son équivalent anglais végétal avec l'image du bourgeon qu'on pince.
Definition: to put an end to something in the works at an early stage and before it gets to fully flourish. The English phrase relies on a vegetal metaphor and is therefore a lot loftier than its cruder French equivalent (in which a poor innocent chick is either killed, smashed or smothered!).
Exemple: Bien des maladies potentiellement graves peuvent être étouffées dans l'œuf afin d'éviter des séquelles chez le patient.
Example: Many potentially serious illnesses can be nipped in the bud so as to prevent them from causing lingering damage to the patient.
Do you know other examples tell us all about them in the comments?