From strong dark roasts to creamy milk-infused cafés, France offers a wide array of distinctive coffee drinks. Here are some of the most popular types of coffee enjoyed in French cafés and homes:
Café or Café Noir or Expresso
Café au Lait
Café Crème
Café Noisette
Café Americain or Café Allongé
Café Gourmand
Café Liégeois
Café Glacé
Café Serré
Un Déca or Café Décafféiné
Café Viennois
Cappuccino
1. Café or Café Noir or expresso
This refers to regular black coffee. It is usually served in small portions as an espresso or French press coffee. The French enjoy café noir with meals or as a pick-me-up in the afternoon.
Café au lait is made with brewed coffee and steamed milk. It's served in bowls or mugs and is a quintessential part of a French breakfast, enjoyed with pastries like croissants.
Café crème features espresso topped with a bit of foam. It has a creamy taste but with a strong coffee punch. Café crème is often consumed as part of a French breakfast or coffee break.
Café noisette consists of an espresso shot with a dollop of milk to give it a hazelnut color. It has a bold coffee flavor softened slightly by the milk. Noisette means "hazelnut" in French.
5. Café Americain or Café Allongé
Café allongé is a black coffee made with extra hot water to dilute the espresso. It has a less intense, milder taste that allows you to savor the coffee's flavors.
This coffee experience includes espresso or black coffee served with small pastries like macarons, tarts, or chocolates. It's an indulgent café treat.
A sweet coffee drink made with strong black coffee, milk, and vanilla syrup. It's sometimes served cold over ice cream as a coffee milkshake.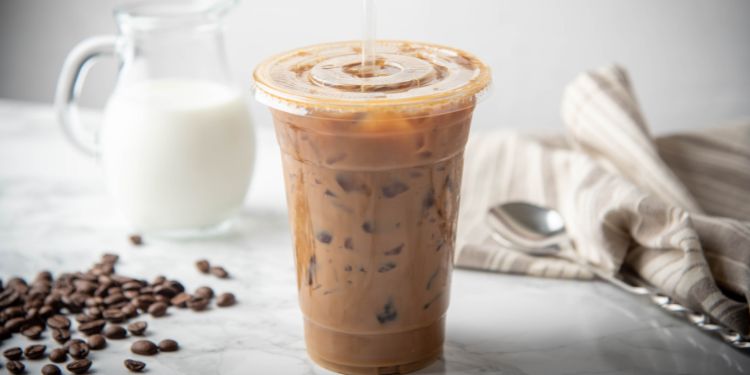 Iced coffee made from cold-brewed coffee. In France, café glacé often includes coffee, milk, and ice blended together.
An extra strong, concentrated black coffee served in a tiny cup or shot glass. It packs a punch of caffeine.
10. Un Déca or Café Décafféiné
Coffee without caffeine, usually served in the same styles as regular French coffee drinks but without the stimulating effects.
Espresso topped with whipped cream inspired by Viennese coffeehouses. A touch of chocolate is often added.
While not native to France, the French version of a cappuccino contains espresso and steamed, foamy milk with intense coffee flavors.
The French café scene is centered around taking the time to enjoy coffee as a sensory experience. Savoring your café noir or café au lait is a daily ritual in French culture.