French has a number of different expressions to wish someone a nice evening, depending on the level of formality and exact timing. Here are 5 common French evening greetings:
Bonsoir 
Bonne soirée
Bonne fin de journée
Bonne fin d'après-midi
Bon début de soirée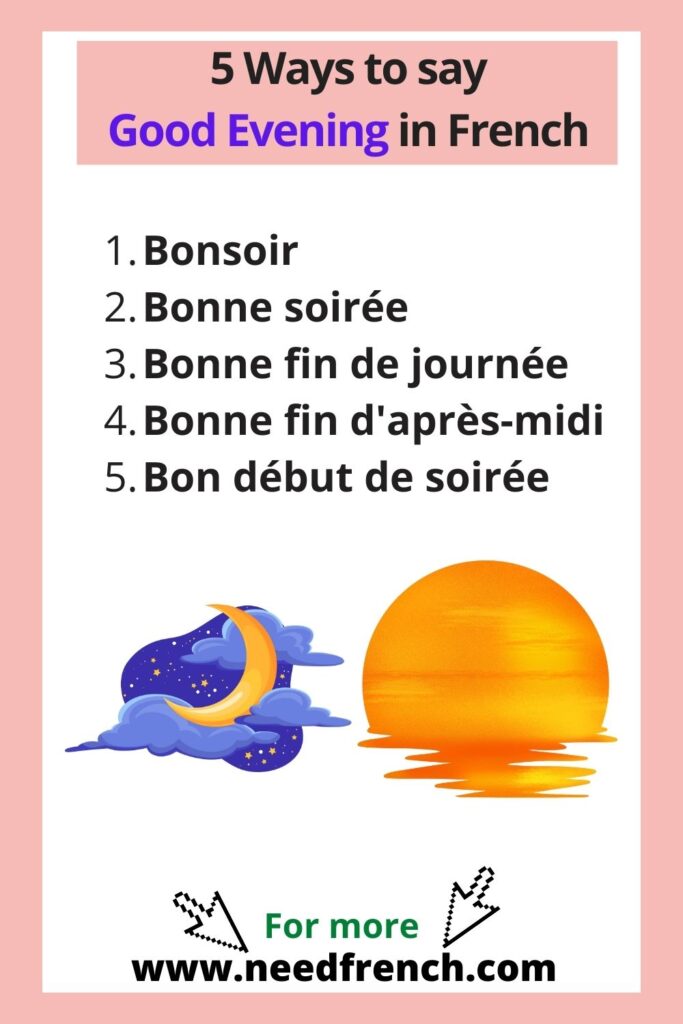 Bonsoir
This is the standard, default way to say good evening in French. Bonsoir is suitable for most situations, whether you are greeting friends, family, coworkers or strangers. It is the direct equivalent of saying "Good evening" in English.
Bonne soirée
Bonne soirée means "Have a nice evening." It is a bit more formal than bonsoir and expresses a warm wish for the person's entire night ahead. Use it when parting from colleagues, hosts, customers or newly introduced acquaintances.
Bonne fin de journée
Translating literally to "Have a good end of day," this phrase is appropriate from late afternoon onwards, maybe around 5pm. It acknowledges the transition from daytime to evening.
Bonne fin d'après-midi
Meaning "Have a good late afternoon," say this French greeting from around 5pm onwards as the day winds down. It is perfect for the in-between time when it's not quite bonsoir hour yet.
Bon début de soirée
Wish someone a good start to their evening with "Have a good beginning of evening." This is commonly used earlier in the night, letting the person know you hope they enjoy the first part of their plans.
Do you know other expressions to say Good Evening in French, tell me all about them in the comments.