Are you looking for some simple French sentences to teach your kids? If so, you've come to the right place! In this blog post, we'll share with you some of our favorite French sentences for kids. These sentences are perfect for beginners who are just starting to learn the language.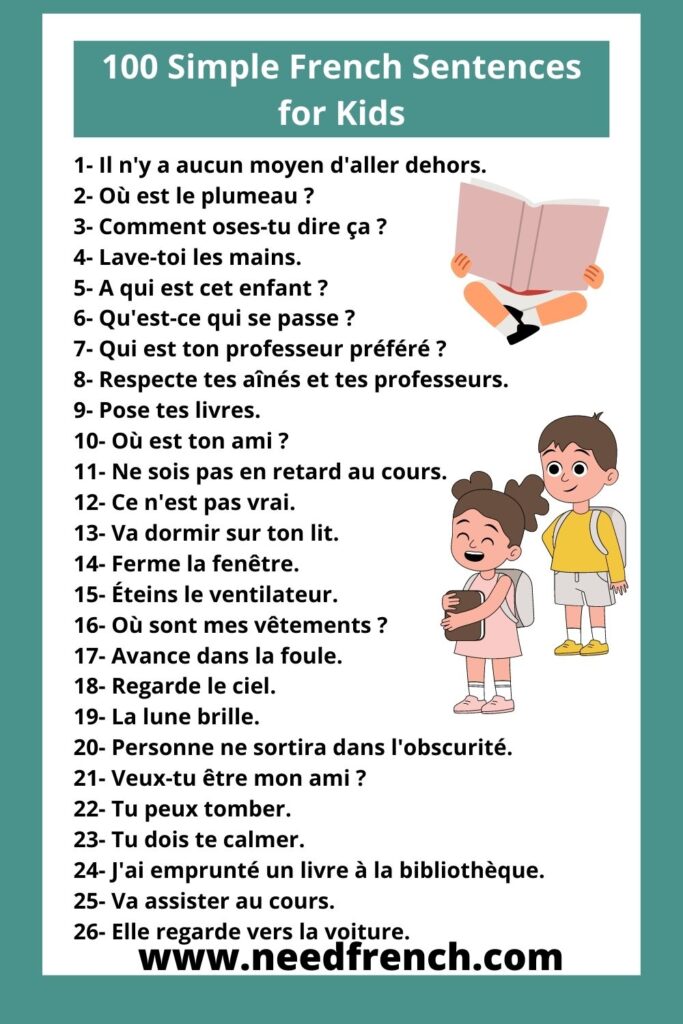 French Sentences for Kids
1- Il n'y a aucun moyen d'aller dehors.
2- Où est le plumeau ?
3- Comment oses-tu dire ça ?
4- Lave-toi les mains.
5- A qui est cet enfant ?
6- Qu'est-ce qui se passe ?
7- Qui est ton professeur préféré ?
8- Respecte tes aînés et tes professeurs.
9- Pose tes livres.
10- Où est ton ami ?
11- Ne sois pas en retard au cours.
12- Ce n'est pas vrai.
13- Va dormir sur ton lit.
14- Ferme la fenêtre.
15- Éteins le ventilateur.
16- Où sont mes vêtements ?
17- Avance dans la foule.
18- Regarde le ciel.
19- La lune brille.
20- Personne ne sortira dans l'obscurité.
21- Veux-tu être mon ami ?
22- Tu peux tomber.
23- Tu dois te calmer.
24- J'ai emprunté un livre à la bibliothèque.
25- Va assister au cours.
26- Elle regarde vers la voiture.
27- Cette période est ennuyeuse.
28- Apportez le registre des présences.
29- Nous n'allons nulle part.
30- Arrêtez de le regarder.
31- Les devoirs sont très faciles.
32- Quelle est la période en cours ?
33- Elle ne termine pas son devoir.
34- Lève-toi tôt le matin.
35- Entre et assieds-toi ici.
36- Fais attention, tu peux t'endormir.
37- J'ai oublié ma boîte de tiffin à la maison.
38- Quelle est ta matière préférée ?
39- Je viens à l'école en bus.
40- Pourrais-tu s'il te plaît faire ton sac correctement ?
41- J'écris un essai.
42- S'il te plaît, donne-moi la feuille de papier.
43- Elle me dérange.
44- J'ai accroché ta chemise ici.
45- Remplissez correctement les espaces vides.
46- Nous devons écrire toutes les réponses.
47- Voulez-vous réussir ?
48- Écoutez vos aînés.
49- Mettez tous les livres nécessaires dans un sac.
50- Les élèves nettoient le terrain de l'école.
51- Arrêtez de l'irriter.
52- Ne faites pas de bruit.
53- Arrêtez de parler dans la classe.
54- Je veux jouer avec mes amis.
55- Nous aurons dix jours de vacances de Noël.
56- Je suis en retard à l'école.
57- Mon père me dépose toujours à l'école.
58- La dernière année d'école a été très fantastique.
59- Mon ami est absent aujourd'hui.
60- As-tu eu de bonnes leçons ?
61- Nettoie le tableau noir.
62- Quelle est la force de cette classe ?
63- Demain sera un jour férié.
64- Quel est le devoir d'aujourd'hui ?
65- Où sont mes chaussures ?
66- Tu as raison.
67- Où est la feuille de réponse ?
68- Coupe tes cheveux et tes ongles.
69- Tu ne mérites pas cet endroit.
70- Attachez les lacets de vos chaussures.
71- L'oiseau est assis sur la branche.
72- Gardez ce secret.
73- Fermez la porte, s'il vous plaît.
74- Allez tout droit, puis prenez la première à gauche.
75- Qu'est-ce qui te tracasse ?
76- Conduis le vélo.
77- Viens plus près de moi.
78- Elle donnait le bain à ses enfants.
79- Nous sommes prêts à venir.
80- Le directeur va annoncer quelque chose.
81- Notre professeur de classe est très bon pour enseigner.
82- Tout le monde aime chanter dans la classe.
83- Où est mon livre ?
84- Termine ton petit-déjeuner.
85- Pense à toi.
86- Je ne vais nulle part.
87- Il joue toute la journée.
88- Elle ne m'écoute pas.
89- Nous allons dans la cabine du directeur.
90- Mon père est un homme d'affaires.
91- Son frère vient à son école.
92- Finissons le travail à temps.
93- Combien de temps vas-tu rester là-bas ?
94- Note mes mots.
95- Je veux t'aider.
96- Elle vient demain.
97- Maman se sent mal aujourd'hui.
98- On doit aider ce vieil homme.
99- Je ne peux pas comprendre.
100- Je vais jouer au cricket avec mes amis.
1- There is no way to go outside.
2- Where is the duster?
3- How dare you say that!
4- Wash your hands.
5- Whose kid is this?
6- What is going on?
7- Who is your favorite teacher?
8- Respect your elders and teachers.
9- Put your books down.
10- Where is your friend?
11- Don't be late for the class.
12- It is not true.
13- Go and sleep on your bed.
14- Close the window.
15- Switch off the Fan.
16- Where are my clothes?
17- Move forward in the crowd.
18- Look at the sky.
19- The moon is shining.
20- Nobody will go out in the darkness.
21- Would you like to be my friend?
22- You may fall.
23- You have to be calm down.
24- I borrowed a book from the library.
25- Go and attend the class.
26- She is looking towards the car.
27- This period is boring.
28- Bring the attendance register.
29- We are not going anywhere.
30- Stop starring him.
31- The homework is very easy.
32- Which period is going on?
33- She is not completing her assignment.
34- Get up early in the morning.
35- Come inside and sit here.
36- Be aware, you may fall asleep.
37- I forget my tiffin box at home.
38- What is your favorite subject?
39- I come to school by bus.
40- Would you please pack your bag properly?
41- I am writing an essay.
42- Please, give me the piece of paper.
43- She is disturbing me.
44- I have hung your shirt here.
45- Fill in the blanks properly.
46- We have to write all the answers.
47- Do you want to be successful?
48- Listen to your elders.
49- Put all the necessary books in a bag.
50- Students clean the school ground.
51- Stop irritating him.
52- Don't make noise.
53- Stop talking in the classroom.
54- I want to play with my friends.
55- We will get ten days of Christmas Holidays.
56- I am getting late for school.
57- My father always drops me at school.
58- The last year of school was very fantastic.
59- My friend is absent today.
60- Have you got good lessons?
61- Clean the blackboard.
62- What is the strength of this classroom?
63- Tomorrow will be a holiday.
64- What's the homework for today?
65- Where are my shoes?
66- You are right.
67- Where is the answer sheet?
68- Cut your hair and nails.
69- You don't deserve this place.
70- Bind the shoelaces.
71- The bird is sitting on the branch.
72- Keep this a secret.
73- Shut the door, please.
74- Go straight, then take the first left.
75- What is troubling you?
76- Drive the bicycle.
77- Come closer to me.
78- She was bathing her kids.
79- We are ready to come.
80- The principal is going to announce something.
81- Our class teacher is very good at teaching.
82- Everyone loves to sing in the classroom.
83- Where is my book?
84- Complete your breakfast.
85- Think about yourself.
86- I am not going anywhere.
87- He is playing all day.
88- She is not listening to me.
89- We are going to the principal's cabin.
90- My father is a businessman.
91- His brother is coming to his school.
92- Let's finish the task on time.
93- How long will you stay there?
94- Mark my words.
95- I want to help you.
96- She is coming tomorrow.
97- Mother is feeling down today.
98- We have to help that Oldman.
99- I can not understand.
100- I am going to play cricket with my friends.