Are you looking for ways to spruce up your French conversation skills? If so, you're in luck! Using French sentences in everyday conversation is a great way to practice your language skills and improve your fluency.


Sentences can be used to express a variety of emotions, make requests, or give compliments. They can also be used in a variety of situations, from casual conversation to more formal settings. And finally, sentences can help you learn new vocabulary and improve your grammar.


So what are you waiting for? Start using French sentences today and see your language skills improve in no time!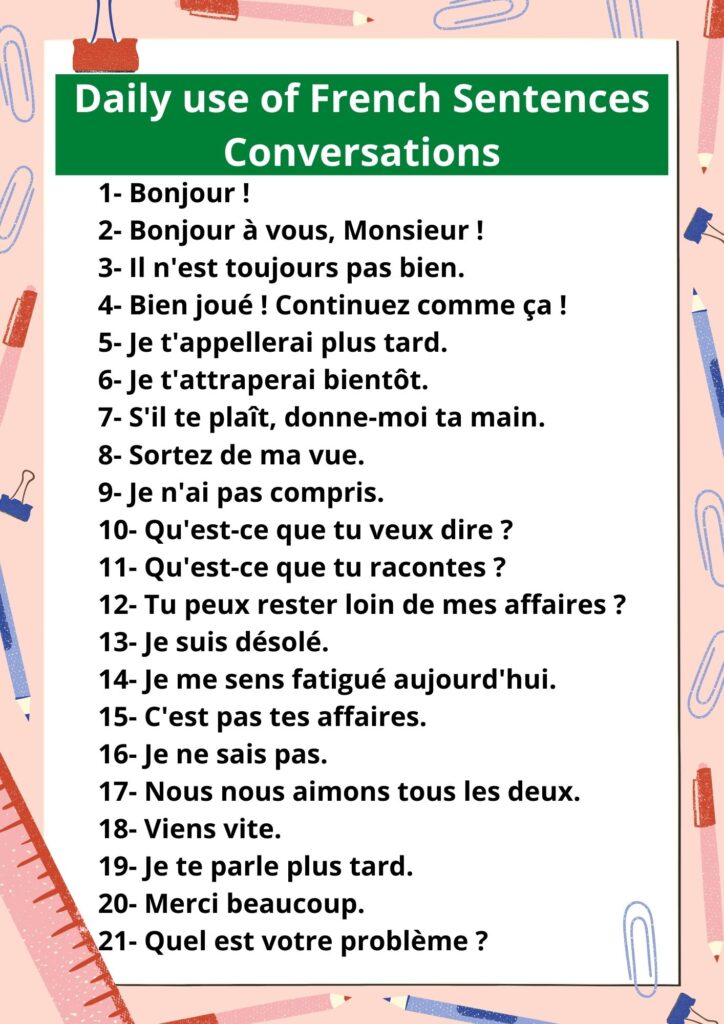 Common French Sentences used in daily life
1- Bonjour !
2- Bonjour à vous, Monsieur !
3- Il n'est toujours pas bien.
4- Bien joué ! Continuez comme ça !
5- Je t'appellerai plus tard.
6- Je t'attraperai bientôt.
7- S'il te plaît, donne-moi ta main.
8- Sortez de ma vue.
9- Je n'ai pas compris.
10- Qu'est-ce que tu veux dire ?
11- Qu'est-ce que tu racontes ?
12- Tu peux rester loin de mes affaires ?
13- Je suis désolé.
14- Je me sens fatigué aujourd'hui.
15- C'est pas tes affaires.
16- Je ne sais pas.
17- Nous nous aimons tous les deux.
18- Viens vite.
19- Je te parle plus tard.
20- Merci beaucoup.
21- Quel est votre problème ?
22- Je peux vous demander quelque chose ?
23- J'ai été ravi de vous rencontrer.
24- Comment allez-vous ?
25- Que se passe-t-il ?
26- Qu'est-ce que vous aimez et n'aimez pas ?
27-  Désolé pour le dérangement.
28- Que puis-je faire pour vous ?
29- Pouvez-vous m'aider ?
30- Ce n'est pas une blague.
31- Arrêtez de plaisanter.
32- Qu'est-ce qui se passe ici ?
33- Tout va bien.
34- Tu as compris ce que je voulais dire ?
35- Qu'est-ce que tu veux de moi ?
36- Quel âge avez-vous ?
37- Où est ton bureau ?
38- Préparez-vous à aller à l'école.
39- Je vais faire de mon mieux.
40- Tu te joins à nous ?
41- Je suis très heureux de vous rencontrer.
42- Vous êtes sous ma responsabilité.
43- Ce n'est pas juste.
44- Que faites-vous aujourd'hui ?
45- S'il te plaît, dis quelque chose.
46- Je reviendrai.
47- Qu'est-ce que vous aimeriez avoir ?
48- Merci de nous avoir invités.
49- Tout le plaisir est pour moi.
50- Merci pour le conseil.
51- Beaucoup de bons retours de la journée.
52- Bon anniversaire !
53- Je vous souhaite une heureuse vie de couple.
54- Veuillez vous asseoir.
55- Je suis en route.
56- Quand arriverez-vous ?
57- Enchanté de vous avoir rencontré.
58- Est-ce que tout va bien ?
59- J'espère vous voir la prochaine fois.
60- Parlez-vous anglais ?
61- Tu es en retard à l'école.
62- J'ai raté mon bus scolaire.
63- Qui est ton professeur principal ?
64- S'il te plaît, nettoie le tableau.
65- Lisez les phrases attentivement.
66- Quelle est ta matière préférée ?
67- Qui est ton professeur préféré ?
68- J'ai terminé mes devoirs.
69- Améliorez votre écriture.
70- Pourquoi es-tu en retard ?
71- Quel est votre numéro de téléphone ?
72- Pourrais-tu me montrer ta feuille de réponses ?
73- Je t'en remercie.
74- Tu es d'accord avec moi ?
75- Tu comprends ce que je veux dire ?
76- C'était sympa de parler avec vous.
77- Je l'ai fait.
78- Je suis triste pour votre perte.
79- Faisons la fête !
80- Qu'est-ce qui te plaît le plus ?
81- Ne me dérangez pas !
82- Essayez d'ouvrir cette porte.
83- Je lis des livres.
84- Je ne veux rien savoir.
85- Conduis prudemment.
86- J'aime jouer aux jeux vidéo.
87- Va doucement de la foule.
88- Voici votre version actualisée.
89- Le soleil se lève à l'est.
90- Nous cuisinons tous les jours
91- L'exercice quotidien vous rend en forme et en bonne santé.
92- Passez une bonne journée.
93- Excusez-moi !
94- Arrêtez de pleurer.
95- Tu te moques de moi ?
96- Tu peux me donner de l'argent ?
97- Les filles ne veulent pas rester dans le chewing-gum.
98- Elle se réveille tôt le matin.
99- Il dort l'après-midi.
100- Comment je peux t'aider ?
1- Good morning!
2- Good day to you, Sir!
3- He is still not well.
4- well done! Keep it up!
5- I will call you later.
6- I will catch you soon.
7- Please give me your hand.
8- Get out of my sight.
9- I did not understand.
10- What do you mean?
11- What are you talking about?
12- Could you stay away from my stuff?
13- I am sorry.
14- I am feeling tired today
15- It's none of your business.
16- I don't know.
17- We both like each other.
18- Come quickly.
19- Talk to you later.
20- Thank You very much.
21- What is your problem?
22- Can I ask you something?
23- It was nice meeting you.
24- How are you?
25- What is going on?
26- What are your likes and dislikes?
27- Sorry for the inconvenience.
28- What can I do for you?
29- Will you please help me with this?
30- This is not a joke.
31- Stop kidding.
32- What is happening here?
33- Everything is fine.
34- Did you get my point?
35- What do you want from me?
36- How old are you?
37- Where is your office?
38- Get ready to go to school.
39- I will try my level best.
40- Are you joining us?
41- I am very pleased to meet you.
42- You are my responsibility.
43- This is not fair.
44- What are you doing today?
45- Please say something.
46- I will come again.
47- What would you like to have?
48- Thank you for inviting us.
49- It's my pleasure.
50- Thank you for the advice.
51- Many happy returns of the day.
52- Happy birthday!
53- I wish you a happy married life.
54- Please be seated.
55- I'm on my way.
56- When will you reach?
57- Nice to meet you.
58- Is everything alright?
59- Hope to see you next time.
60- Do you speak English?
61- You are getting late for school.
62- I missed my school bus.
63- Who is your class teacher?
64- Please clean the board.
65- Read the sentences carefully.
66- What is your favorite subject?
67- Who is your favorite teacher?
68- I have completed my homework.
69- Improve your handwriting.
70- Why are you late?
71- What is your contact number?
72- Could you show me your answer sheet?
73- I appreciate it.
74- Do you agree with me?
75- Do you know what I mean?
76- It was nice to talk with you.
77- I made it.
78- I feel sad for your loss.
79- Let's celebrate!
80- What do you like the most?
81- Do not disturb!
82- Try to open this door.
83- I read books.
84- I do not want to know anything.
85- Drive carefully.
86- I love to play video games.
87- Go slow from the crowd.
88- This is your updated version.
89- The sun rises from the east.
90- We cook everyday
91- Daily exercise makes you fit and healthy.

92- Have a nice day.
93- Excuse me!
94- Stop crying.
95- Are you fooling me?
96- Could you give me some money?
97- Girls do not want to stay in the gum.
98- She wakes early in the morning.
99- He sleeps in the afternoon.
100- How can I help you?
Common Daily use French Sentences
1- Bonjour !
2- Bonjour mon oncle !
3- Que Dieu te bénisse !
4- Comment vas-tu ?
5- Excusez-moi.
6- Je suis désolé !
7- C'est un plaisir pour moi.
8- Ce n'est pas grave.
9- Qu'est-ce qui se passe ?
10- Tout va bien.
11- Je suis en route.
12- Tu parles anglais ?
13- Qu'est-ce que vous faites ?
14- N'importe quoi d'autre.
15- Arrêtez de plaisanter !
16- S'il vous plaît, taisez-vous !
17- Enchanté de vous avoir rencontré !
18- Au revoir, à bientôt !
19- Comme vous voulez.
20- Comment osez-vous dire ça ?
21- Pouvez-vous s'il vous plaît répéter cela ?
22- J'ai gagné !
23- Quelle idée !
24- Merci pour cet honneur.
25- Non, pas du tout.
26- C'est trop.
27- Ça n'a pas d'importance.
28- Marche lentement.
29- Occupe-toi de tes affaires.
30- Réfléchis avant de parler.
1- Good Morning!
2- Hello Uncle!
3- May God bless you!
4- How are you?
5- Excuse me.
6- I am sorry!
7- It's my pleasure.
8- That is alright.
9- What is going on?
10- Everything is fine.
11- I am on the way.
12- Do you speak English?
13- What are you doing?
14- Anything else.
15- Stop Kidding!
16- Please keep quiet!
17- Pleased to meet you!
18- Bye, See you again!
19- As you please.
20- How dare you say that!
21- Can you please repeat that?
22- I have won!
23- What an idea!
24- Thanks for this honor.
25- No, not at all.
26- That is too much.
27- Doesn't matter.
28- Walk slowly.
29- Mind your own business.
30- Think before you speak.
In conclusion, French sentences can be used in a variety of ways to improve your everyday conversation skills. By using sentences to express emotions, make requests or give compliments, you can add fluency and confidence to your language ability. In addition, practicing with French sentences can help you learn new vocabulary and improve your grammar. So next time you're feeling stuck in a conversation, remember to reach for a sentence in French and see where it takes you!