There are many benefits to teaching children French from a young age. Not only will they be able to communicate with a wider range of people, but they'll also have a head start on their education.
One of the best ways to teach children French is to expose them to as many daily use sentences as possible. This will help them to pick up the language quickly and easily.
In this blog post, we'll share some of our favorite daily use French sentences for children. We hope you find them useful!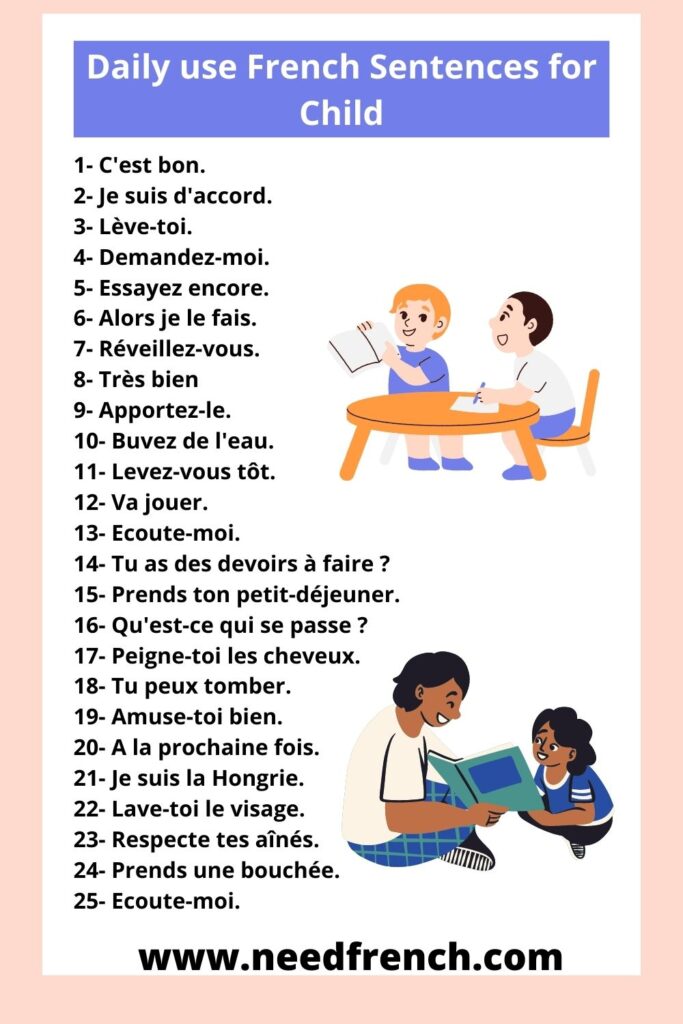 French Sentences for Child
1- C'est bon.
2- Je suis d'accord.
3- Lève-toi.
4- Demandez-moi.
5- Essayez encore.
6- Alors je le fais.
7- Réveillez-vous.
8- Très bien
9- Apportez-le.
10- Buvez de l'eau.
11- Levez-vous tôt.
12- Va jouer.
13- Ecoute-moi.
14- Tu as des devoirs à faire ?
15- Prends ton petit-déjeuner.
16- Qu'est-ce qui se passe ?
17- Peigne-toi les cheveux.
18- Tu peux tomber.
19- Amuse-toi bien.
20- A la prochaine fois.
21- Je suis la Hongrie.
22- Lave-toi le visage.
23- Respecte tes aînés.
24- Prends une bouchée.
25- Ecoute-moi.
26- N'aie pas peur.
27- Eteins la lumière.
28- Vas-y.
29- Allume la lumière.
30- Prépare le lit
1- It's ok.
2- I agree.
3- Get up.
4- Ask me.
5- Try again.
6- So I do.
7- Wake up.
8- All right
9- Bring it.
10- Drink water.
11- Get up early.
12- Go and play.
13- Listen to me.
14- Do you have any homework?
15- Have your breakfast.
16-What's going on.
17- Comb your hair.
18- You may fall down.
19- Enjoy yourself.
20- See you next time.
21- I am Hungary.
22- Wash your face.
23- Respect your elders.
24- Take a bite.
25- Listen to me.
26- don,t be afraid.
27-Turn off the light.
28- Go ahead.
29- Turn on the light.
30- Prepare the bed