Learning French can be an exciting and rewarding experience. Whether you're a beginner or an advanced learner, having a repertoire of essential phrases and sentences can greatly enhance your interactions in the French classroom.
Here are some useful phrases and sentences that can be used in a French class: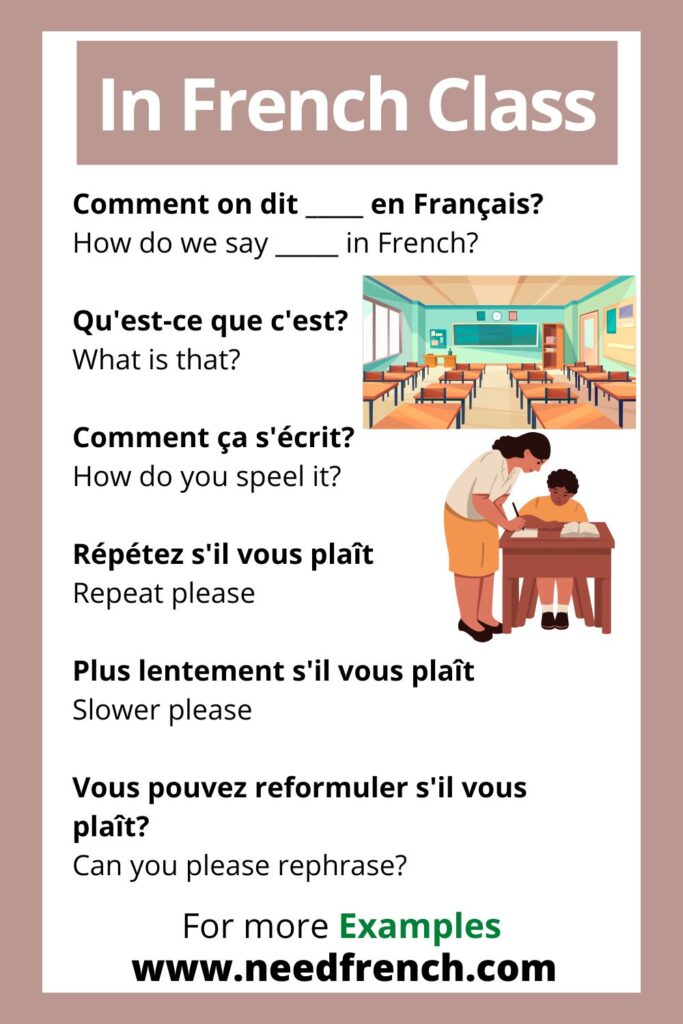 Expanding Vocabulary and Grammar
Comment dit-on… en français ? (How do you say… in French?)
Quelle est la conjugaison de ce verbe ? (What is the conjugation of this verb?)
Pouvez-vous me donner un exemple ? (Can you give me an example?)
Pratiquons la prononciation. (Let's practice pronunciation.)
Comment ça s'écrit? (How do you speel it?)
Je ne suis pas sûr(e) de comprendre. (I'm not sure I understand.)
Pourriez-vous expliquer davantage ? (Could you explain further?)
Est-ce que c'est correct ? (Is this correct?)
Pourrais-je avoir plus d'exemples ? (Could I have more examples?)
Vous pouvez reformuler s'il vous plaît? (Can you please rephrase?)
Qu'est-ce que c'est? (What is that?)
Comprehension and Communication
Je ne sais pas = I don't know

Je ne comprends pas = I don't understand

Répétez, s'il vous plaît = Repeat, please

Encore = One more

Plus lentement s'il vous plaît = Slower please
Seeking Help and Assistance
J'ai besoin d'aide. (I need help.)
Pouvez-vous m'expliquer cette règle ? (Can you explain this rule to me?)
Est-ce que quelqu'un peut m'aider ? (Can someone help me?)
Je suis perdu(e). (I'm lost.)
Giving and Receiving Feedback
C'est bien fait ! (Well done!)
Tu as fait des progrès. (You have made progress.)
Il y a encore des erreurs à corriger. (There are still some errors to correct.)
Tu devrais travailler sur ta prononciation. (You should work on your pronunciation.)
Raise your hand = Levez la main

Have you finished? = Avez-vous fini?

Put your hand up = Levez la main

Don't look = Ne regardez pas
Sit down = Asseyez-vous

Pay attention = Faites attention

Leave the room = Sortez de la salle
Q: How can I improve my pronunciation in a French classroom?

A: Practice regularly, listen to native speakers, and imitate their pronunciation.

Q: What should I do if I don't understand a concept in class?

A: Don't hesitate to ask questions, seek clarification from your teacher or classmates, or utilize additional resources outside the classroom.

Q: How can I remember new vocabulary words more effectively?

A: Create flashcards, use mnemonic devices, practice regularly, and try incorporating new words into sentences or conversations.

Q: What can I do to become more confident in speaking French in class?

A: Practice speaking in front of a mirror, participate actively in class discussions, and gradually challenge yourself to speak more French outside the classroom.