Are you looking for ways to add a little je ne sais quoi to your home décor? If so, why not try using some French sentences? Not only will they add an air of sophistication to your abode, but they can also be quite practical.
Here are some French sentences to use in your home.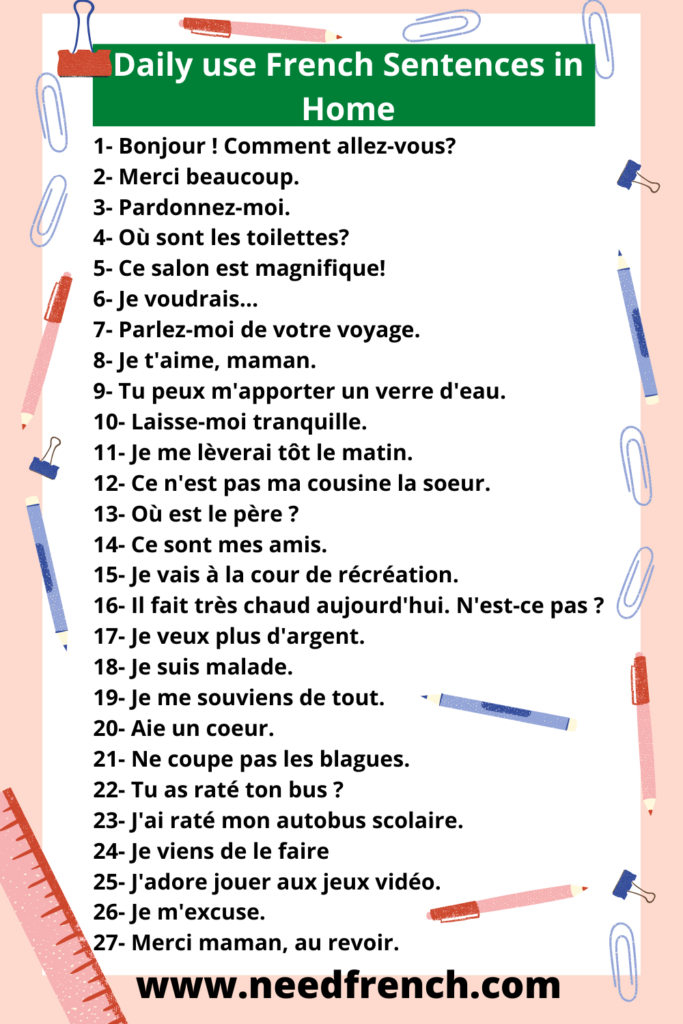 Daily use French Sentences in Home
1- Bonjour ! Comment allez-vous?
2- Merci beaucoup.
3- Pardonnez-moi.
4- Où sont les toilettes?
5- Ce salon est magnifique!
6- Je voudrais…
7- Parlez-moi de votre voyage.
8- Je t'aime, maman.
9- Tu peux m'apporter un verre d'eau.
10- Laisse-moi tranquille.
11- Je me lèverai tôt le matin.
12- Ce n'est pas ma cousine la soeur.
13- Où est le père ?
14- Ce sont mes amis.
15- Je vais à la cour de récréation.
16- Il fait très chaud aujourd'hui. N'est-ce pas ?
17- Je veux plus d'argent.
18- Je suis malade.
19- Je me souviens de tout.
20- Aie un coeur.
21- Ne coupe pas les blagues.
22- Tu as raté ton bus ?
23- J'ai raté mon autobus scolaire.
24- Je viens de le faire
25- J'adore jouer aux jeux vidéo.
26- Je m'excuse.
27- Merci maman, au revoir.
1- Hello! How are you doing?
2- Thank you very much.
3- Excuse me.
4- Where are the toilets?
5- This living room is beautiful!
6- I would like to…
7- Tell me about your trip.
8- I love you, Mom.
9- Get me a glass of water.
10- Leave me alone.
11- I'll get up early in the morning.
12- She is not my cousin the sister.
13- Where is the father?
14- These are my friends.
15- I am going to the playground.
16- It's very hot today. Is it not?
17- I want more money.
18- I am sick.
19- I remember everything.
20- Have a heart.
21- Don't cut the jokes.
22- Did you miss your bus?
23- I missed my school bus.
24- I just did
25- I love playing video games.
26- I apologize.
27- Thanks mom, goodbye.
You can also use some basic vocabulary words to describe things around the house. Here are a few examples:
– la cuisine (the kitchen)
– la salle de bain (the bathroom)
– le salon (the living room)
– la chambre (the bedroom)
– L'escalier (the staircase)
In conclusion, start with the basics—greetings, courtesies, and simple phrases that you can use around the house. Everyday interactions are a great opportunity to practice your French sentences. Even if you make mistakes, native speakers will appreciate your efforts and be more willing to help you along the way.