In today's post, we'll discuss the word "Feu" in French. We'll provide some example sentences using the day's featured word. So without further ado, let's get started!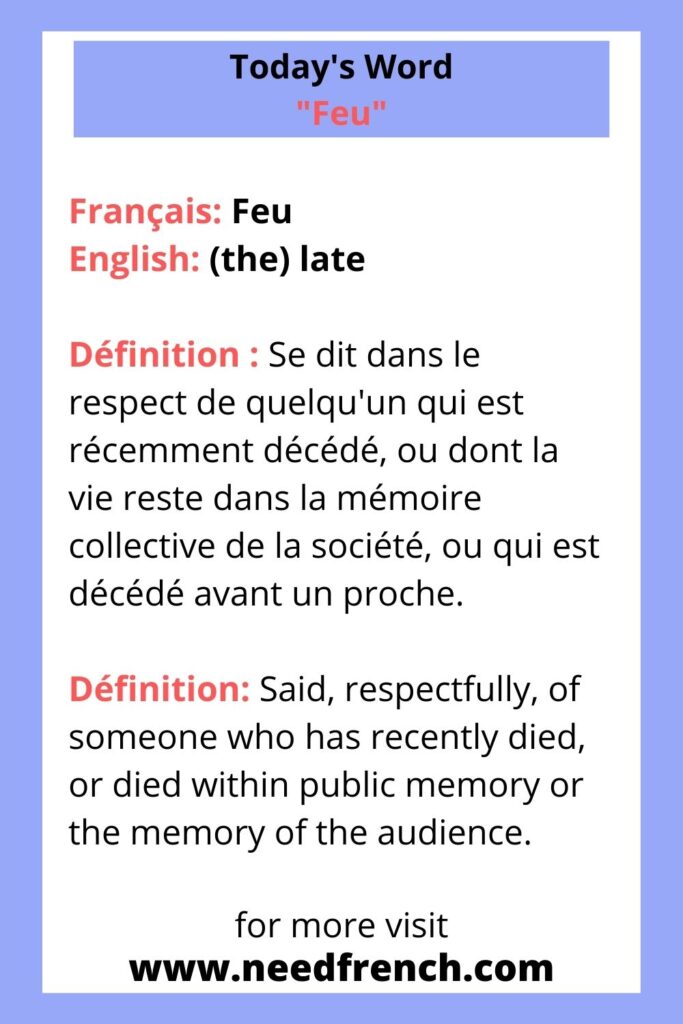 Français: Feu
English: (the) late
Définition : Se dit dans le respect de quelqu'un qui est récemment décédé, ou dont la vie reste dans la mémoire collective de la société, ou qui est décédé avant un proche.
Définition: Said, respectfully, of someone who has recently died, or died within public memory or the memory of the audience.
Feu=
foe
Français usage & traduction: Langage soutenu. L'adjectif se place devant le nom auquel il fait référence mais peut apparaître avant le déterminant ou après. Il est invariable quand il n'y a pas de déterminant ou quand il précède le déterminant, mais il s'accorde quand il se place entre le déterminant et le nom. Quand il fait référence à quelqu'un qui est prédécédé par quelqu'un d'autre on n'utilise pas "late" en anglais avec le même sens.
English usage & translation: Sometimes appears as a lionizing set phrase, "The late, great…", which is often translated as "regretté" in French without the word "feu". Almost always appears with a determiner (the, your &c.) in modern usage.
Exemples:
1- "Né le 3 octobre 1961, il était fils de feu Placide Babin et de feu Olive Caissie."
2- "Feu la mère de Madame est une pièce de théâtre en un acte de Georges Feydeau."
3- "1759 : mort à Versailles de Mme Élisabeth, duchesse de Parme (Madame Infante), sœur jumelle de la feue Madame Henriette."
Examples:
1- "More than a dozen members of the Royal Family will pay tribute to the late Duke of Edinburgh in a documentary to air on BBC One."
2- "As the late, great Jimi Hendrix once said, castles made of sand fall into the sea eventually."
3- "Her swete and late amyable husbonde."
Do you know other examples tell us all about them in the comments?